My Experience With
Colorful Images
Colorful Images website really lives up to their namesake. They have a great website, with big pictures right on their front page. I think Colorful Images rollover buttons were the best out of all the companies I've compared.
Although their website is really attractive, I had a hard time finding what I wanted, and when I did find it (eventually), I found that they have a weird system of choosing which font you want. They have a different product for each font...
Below is a Product Example. It came with a clear plastic dispenser.
Price Info:
Colorful Images sells alot of differnt products. Their speciality is premium address labels with colorful designs. If you want really super nice labels for an expensive special event, this is probably the way to go if you don't mind spending some money.
I ordered their 250 white rolled labels. The cost of the product was $10.99. The shipping charge was $6.99, bringing the grand total to $17.98. This makes the CPL (Cost Per Label) a whopping $0.07 per label. I recieved my order in 10 days.
Below are pictures of the packaging, including a magazine demonstrating their product lines. Besides address labels, they offer other personalized products.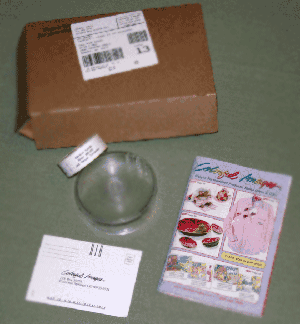 To Contact Colorful Images:
Colorful Images®
P.O.Box 35022
Colorado Springs, CO 80935-3522
Toll Free Phone Orders: 1-800-458-7999
Fax Orders: 1-800-458-6999
Customer Service: 1-800-272-9209
Click To Visit: