My Experience With Current Labels
"How much has Current Labels changed since last time BestAddressLabels.com did a review?"
There have been several changes. Since this is the second review I have done about Current Address Labels, I get to see exactly what has happened. I have found that, in both times I've ordered, I have had no difficulties in ordering, and the product was satasfactory. They have redesigned their page a little bit, not much, just switched out their main picture with a new, "More Animated" version. They also seem to have signed up for the "Verisign Secured" service, showing their customers that:
"This Web site can secure your private information using a VeriSign SSL Certificate. Information exchanged with any address beginning with https is encrypted using SSL before transmission."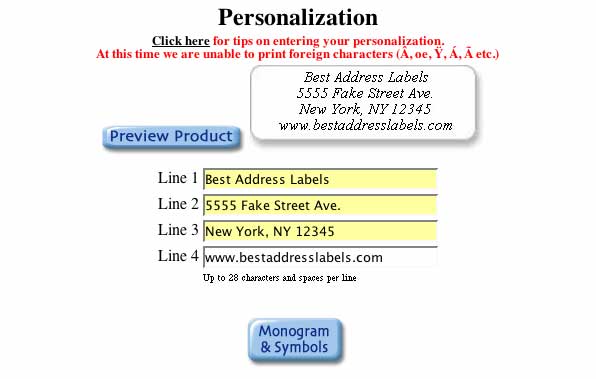 "Is their website easy to order from?"
Yes, their site is pretty easy to order from. One feature I really like about Current Labels is that you get to see a product preview of what you are going to order before you order it. This is a helpful tool. Not only does it allow the user to catch his own mistake, but it also lets him see the type of font you chose. Sometimes the font chosen won't match up to the style you are going for. This little tool will show you your text, with the correct font - all by pressing the "Preview Product" button.